It's a simple story… Dirt bike racer kid Graduated HS, joined the Navy and married High School Sweetheart. Wanted to go racing and had no money. Fire Department made me learn the dreaded computer in the 80s. I still have typed and Xeroxed sponsorship proposals. I picked up more rides and sponsorship online than any pretty letter. Won some AMA National Championships, made a TV commercial for Yamaha and actually made some money… then quit. Took all the fun out of it... There is a lot of racing history in this family including my daughter running a 170mph Super Comp Dragster for Alltel.
I have too much information about our history as racers to bore you with so I'll just save it for another time and place. Do a Google search of me and motorcycle racing and you'll find plenty. Keywords like underdog, Yamaha, drag racing and motorcycle will find an almost embarrassing amount of info.
We're trying to go Offshore Powerboat Racing now with my Daughter and pick up a few bucks on the side doing internet work. Freelance articles, website development and motorsports marketing, as I can do this work from anywhere and I'll be a retired firefighter 7/6/11 and need the gas money.
Having a website has become the new business card or yellow page ad at the least and provides worldwide reach for your customers and product. I sell products on eBay for my customers as cheap advertising for their site, then they sell direct later saving the fees. At least 50-60% is going overseas…
Back when I started messing with computers it cost thousands to have a nice website. I had no money so I figured it out on my own, the hard way. I'm far from an expert but can get the job done. Check my customer's sites to see what we can offer. I can do any design you like. Check out the packages for a start and contact me for specific needs. I keep it simple.
Mark and Becky Underwood are Ohioans (for now) and take our boating seriously. Seriously fun that is. About half the time you'll find us at Buckeye Lake kicking back at the Sand Bar by day and touring the 13 bars on the waters' live bands for the night's entertainment. Then usually over-nighting at one, often Captain Woody's or Papa Boos with friends. The other half of our boating time usually involves a couple Poker Runs and a couple long distance road trips a year. If we have to go somewhere for any reason we usually take the boat along to explore new water. Lake Norman has been an annual trip since we bought the boat and we spend a week there every summer. Great people down there on a great lake…
We've pretty much dedicated 20 years of our lives to drag racing motorcycles. We worked our asses off and finished up with a couple AMA National Championships in 02-03 riding a Factory Sponsored Yamaha. After starting from scratch on a little stock street bike in the 80's, I felt we'd accomplished our goals and walked away from the sport. It was a great ride but I was tired. We bought a boat to relax and enjoy life for a change.
<![if !vml]>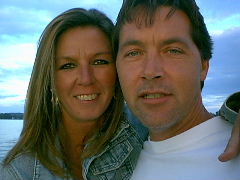 <![endif]>Now on our third boat, I still have the racer in my blood. I'm always tweaking the boat for more speed and power. We watched an offshore race on Lake Erie, which fueled my desire to race this pleasure boat. It was in the back of my mind when it was purchased 4 years ago. The wife says bad idea… "You don't have another 20 year$ to throw away." She's always right…
Please contact us if you're new to boating in our area. Always happy to offer advice if we have it on a place we've been, or give you a tour if we're there,  We've learned a lot that way from other boaters come friends over the years.
More boat info can be found here…
<![if !vml]>

<![endif]>
<![if !vml]>

<![endif]>
All contents property of UnderdogRacing.com