2/2/12- Training in the Sunshine State
We've just returned from 3 and a half months of rigorous training in the South Florida waters. Clocking over 50 hours on the boat in the Florida Keys, Gulf of Mexico, Atlantic Ocean and numerous bays and inland waterways, Underdog Racing gained valuable experience in navigation and boat handling in our quest to compete in sanctioned Offshore Powerboat Racing.
8/28/11
Lake of the Ozarks Shootout
We went to the Shootout with only 4 test runs on our new setup. We played with prop rotation for 2 runs each and found spinning in was faster but a handful to drive. The boat lifts clear out of the water, even with my 2" shorty drives. I did my best to get a smooth run but every time I opened it up we were chine walking. It bounced from prop to prop like crazy. I even tried tucking in the drives and dragging tabs. The photographer who took this great shot even said I had him nervousJ
<![if !vml]>

<![endif]>
Awesome Photo by Jay at http://www.naplesimage.com/
In hindsight I should have went swimming and flipped the props back to Cadillac mode for the final run to get a clean pass. But all said and done we did ok. We won our class NV2M2 at 84mph while also tying with the pro class winner in our boat category PV2M2. It was a blast to cross off one more "must do" event from out bucket list.
We stayed at the best marina on the lake with the best staff and owners we could have asked for. The great folks at Miller's Landing treated us like gold and are letting us stay free next year for being "Top Gun" in our class. Bob and Lynn Miller are the greatest. They had 3 winners burning their 93 octane fuel this year.
<![if !vml]>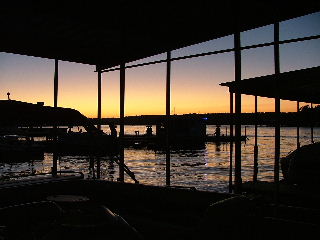 <![endif]>
Check out this sunset view from our covered slip at Miller's Landing.
2/2/11
Happy New Year! The water is still hard in Ohio but we are working hard to make this season our best ever.
The motors are in my shop for a bit more tweaking and we are making plans for a full season of fun. Check our Plans page for more info and it will be added to as plans firm up asap. We will attend a couple races if not race in them as desired. (we're watering the money tree now)
We will be competing in the Lake of the Ozarks Shootout in late August for sure then heading South for the winter as I will be a Retired Firefighter as of July 6th!!!
11/15/10 Indian Summer!!!
<![if !vml]>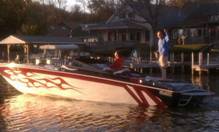 <![endif]>
Fortunately we've had a wonderful fall in Ohio allowing us to boat 8-9 days and break in the new power. We've got about 10 hours on the motors now and only a few small bugs left to work out. A minor oil leak and a hard to find ticking rocker arm. The oil is coming from the fuel pumps which do not like the new ethanol blended fuels I believe. Two new Holly pumps are on their way. After many valve adjustments, I believe we have a bad roller rocker arm causing our noise. That will be <![if !vml]>

<![endif]>replaced as soon <![if !vml]>

<![endif]>as I can determine the culprit.
I built these motors with expectations of running 80mph. I managed 79.2 GPS last week and still climbing but ran out of lake. The water was sticky smooth and a small bit of chop would have easily got us where we wanted to be. Overall I'm happy!
            The all new dash is keeping me informed of what's up under the hatch. This was a much needed upgrade and I still have yet to hook up the EGTs and oil temperature gauges. Winter projects…
10/5/10 Motors Running and New Writing Gig
New motors are in and running. They sound SWEET!!! While I still have a lot of rigging to do our fall break-in plan is on schedule. We hope to head south to do some testing later this fall.
We are now writing freelance articles for the Examiner.com check them out and subscribe to help fuel the fires listed above pleaseJ
9/28/10 We missed the Season…
My Dad use to call it "The Underwood Curse" and sometimes I think that was my inheritance.
            The first half of the season slipped away while trying to port heads for some free horsepower, only to discover upon assembly we had problems. A ton of time and effort went into saving these heads to come up empty.
            <![if !vml]>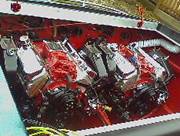 <![endif]>The second half slipped away while trying to find the money for four brand new aluminum heads which are now installed. The motors were sat in the boat yesterday as the temperature dropped 30 degrees and rain came after near drought conditions. The boat will be in the water before it "gets hard" around here. Hopefully with some break in time and tuning we'll head south with it soon.
4/15/10 – The Velocity Race Boat Getting Total Rebuild/Re-Rigging For Competition
Two fresh Big Block Chevy short blocks were completed over the winter and I'm currently reworking and porting our 4 Merlin cylinder heads. We are expecting over 500HP each with potential for more. The boat cockpit has been totally gutted and strengthened for serious competition to the best of my abilities while lightened at the same time for speed. The dash and controls have been completely revamped including a pair of every gage SSCompetition.com has to offer. We WILL know what's going on with our "twins" under the new lighter race hatch.
This will still be a pleasure boat with a race boat demeanor. In my 20 years of Motorcycle Drag Racing, my fondest memories were the early years when we started racing with a street bike. Fun was the goal and we are trying to get back to that aspect of racing we were missing.
4/4/10 – The Lake Rescue Shootout 8/23-29
The Lake of the Ozarks Shootout is the largest unsanctioned boat race in the United States and has been listed by Powerboat Magazine as one of the 8 "must see" boating events. With speeds reaching 196 MPH on a 1 mile drag, boats come from all over the United States for the honor of "Top Gun". The 21st Anniversary event again held at Captain Ron's brought new record crowds estimated at over 70,000 people to the Lake of the Ozarks for the weekend. Families enjoyed playing on the beaches, visiting with over 50 vendors and having their pictures taken with many of the 123 racers that participated in the record setting event. Over 8,000 boats lined the course during the two-day races as they watched David Scott and John Tomlinson of Nauti-Marine fly by on one good engine as they set a new course record at 196 miles per hour.
In the past, this event has provided the Water Rescue Teams of Osage Beach, Lake Ozark, Sunrise Beach, and Gravois with much needed rescue equipment to be used on the Lake of the Ozarks. The new version of the Lake of the Ozarks Shootout will continue to benefit the Lake Area Rescue Teams, and other charitable organizations.
The Lake of the Ozarks Shootout committee is excited about the opportunity to continue such a great tradition and we look forward to your continued participation. Come see the Lake of the Ozarks Shootout by land at Captain Ron's off Lake Road 5-50 or by water on the 34.5 mile marker.
More info here: http://www.lakeoftheozarksshootout.org/history.html
More boat info can be found here…
<![if !vml]>

<![endif]>
<![if !vml]>

<![endif]>
All contents property of UnderdogRacing.com